Biking For Babies Visits Quincy, IL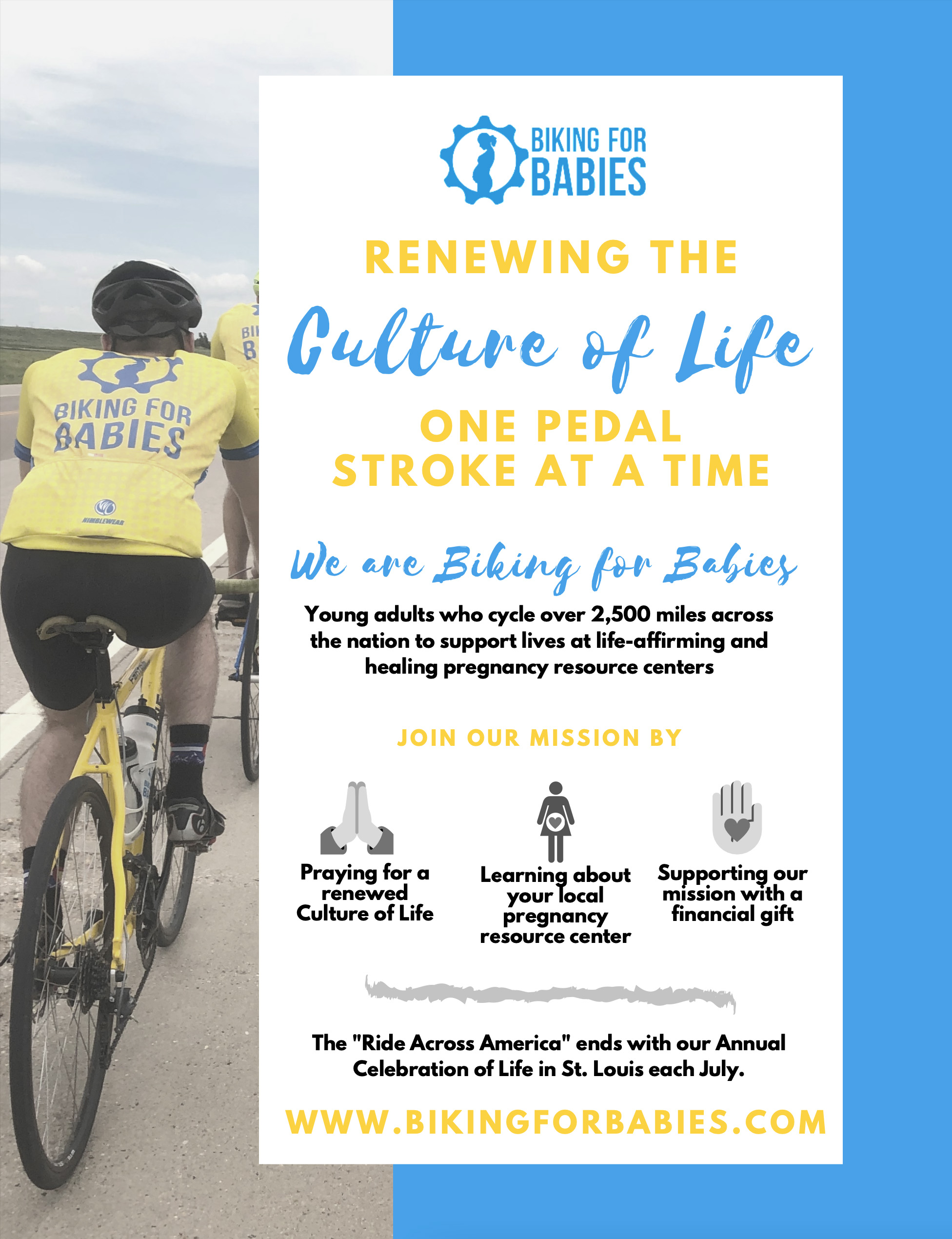 BIKING FOR BABIES VISITS QUINCY, IL
Imagine a world where women do not have to make choices out of fear or convenience but feel empowered to make choices out of love and purpose. Imagine a world where the gift of life is the thing held in the highest respect. Biking for Babies believes in that world, and they are chasing that vision. 
For the thirteenth year, Biking for Babies is sending out young adults from all sides of the country to raise awareness and financial support for pregnancy resource centers in America. This July, 56 college students and young adults plan to cover a total of close to 4,000 miles for the babies, women and families served by these pregnancy resource centers. They will ride an average of 17 mph, covering an average of 100 miles per day. Teams that converge in St. Louis on July 16th will leave from Green Bay, Wis.; Columbus, Ohio; Natchez, Miss.; Dodge City, Kan., and Minneapolis, Min. The team riding into Washington, D.C. will leave from Columbus, Ohio. 
The history of Biking for Babies is not best understood in miles cycled or money fundraised, but rather is part of the penetrating story of young adults supporting those in crisis. "This year's National Ride is going to be a historic event for Biking for Babies, with more missionaries, pregnancy resource centers and routes than ever before." Executive Director Nikki Biese shares emphatically. "This is also our first year with 2 Celebration of Life events: our 5th annual in St. Louis, MO and our 1st in Arlington, V.A. This growth speaks well of the desire of young people to put their beliefs into action and support women in unplanned pregnancies."
Head to www.bikingforbabies.com for information on how you can get involved, cheering them on, donating, and joining as a young adult next year. Follow Biking for Babies on Facebook, Instagram, and YouTube. 
They exist to bring light into the darkness of our culture; they exist to invite others into a life of action, to spread hope by their physical witness on the roads. If you see the teams on the road, be sure to cheer them on. Each of them is needed to make a difference. Join them, they are just getting started.
Right to Life of Adams County is proud to be able to host, with Blessed Sacrament Church, the members of the Biking for Babies Minnesota team, who will be bicycling from Ottumwa, IA to Quincy on Friday, July 15.   They're stopping in Quincy on the 5th day of their 6-day trip from St. Paul MN to St. Louis MO.
Let's do all that we can to give the team a strong, pro-life welcome!  Please come meet the participants, listen to their presentations, offer support, pray for the success of their ministry, and enjoy some refreshments.
Friday, July 15, 6:30 p.m., Madison Park Shelter, 24th & Maine, Quincy IL
Visit rtlac.org and Right to Life of Adams County Facebook page for more information.